While Europe seems to disappear under a blanket of white snow, Haydom is still desperately waiting for the rain to come. The dusty red-soiled land lies ahead of me, thirsty for its first raindrops to bring out the first green, my little garden pond is already missing quarter of its water and the fish are hiding down at the bottom, but while things around the hospital seem to literally slowdown in the heat of the sun, the hospital life gets busier and busier each day. New maternity ward has opened, expecting mothers moved into a a new and much more light-flooded and spacious building.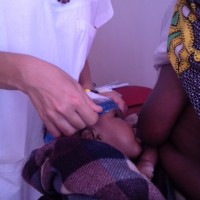 For myself that means that also Neonatology is able to expand in the rooms of the old building. There will be space for heating tables and one transport incubator for premature children, one room for the term sick ones that need ventilation and intensive care and I am aiming to create a room for kangaroo care and breastfeeding. But still this is all in my head. Reality shows still increasing number of new-borns, a crowded room twenty and nineteen and very motivated but severely understaffed nurses that still get borrowed to other departments. Until I do not have my own "neonatal nursing pool " things will be hard to maintain on the expected level…but everybody is trying to keep up the good work. One year of many challenges and many positive changes despite many lost fights on personal patient level.
There is the new food project from Lena Ward. Severe sick children that are dependent on proper nutrition get supplied from the Lena ward kitchen with 3 warm meals a day. In terms of long time prevention Martha Masawe and the nursing students started an educational program for the parents. Once a week there is a short interactive lecture in the Lena ward hallway and 3 times per week parents get taken down to the hospital garden to get shown how to  farm and harvest the right vegetables and food at what time of the year. The actual food supply for the sickest children on the ward is fund dependent and not hospital financed. The educational food program is linked to the outreach clinics as well.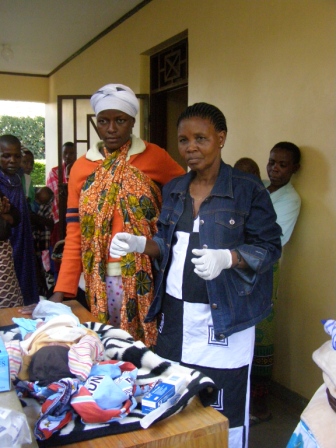 The supply from the German container that arrived in February is in busy use on Lena ward…although the machines react very fragile to the African voltage changes and so we have already lost some of the necessary saturation monitors. At least the ventilators and remaining monitors on Lena ward and maternity make resuscitation and intubation possible.
For myself I had been going more and more into the surgical field, getting more and more involved into ventriculoperitoneal shunting and hydrocephalus treatment as well as surgical spina bifida closure. My goal is to gain sustainability by teaching a young Tanzanian local surgeon in that field, hoping he can follow my footsteps when I will be leaving. Haydom is facing an increased number of hydrocephalus and spina bifida children that need medical care. In this rural area where people have not the financial possibilities Haydom is their only chance to get help with the surgical procedure. I am working on improving the postoperative care and follow op assessments. That includes regular visits in the clinic and regular physiotherapy care, also equipment like special wheelchairs, training in urine catheterization and the necessary catheter supplies for those families.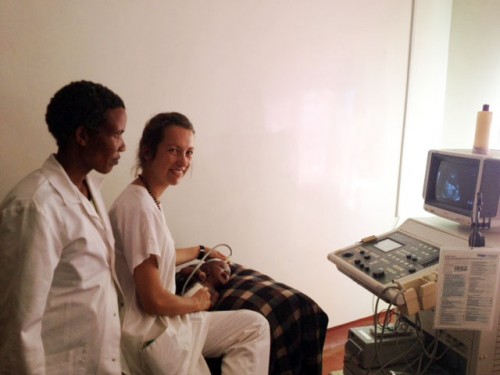 In order to make that possible the physiotherapeutic organisation CCBRT and the hospital ALMC in Arusha is trying to include Haydom in their social network, providing shunts for the procedure and offering special training for staff and doctors from Haydom, also offering transfers to Haydom to visit the families to bring equipment and make assessments for those who cannot travel to the hospital. In fact I am planning to take a 2 weeks surgical training with a local Neurosurgeon from ALMC in Arusha to improve my skills and keep being able to share my experience so far. It is still a long way to go but it sounds quite promising with the support of the administration.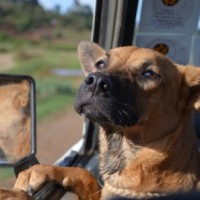 There is a way of giving little hope to the ones who would not be able to survive. And personal 🙂 I am not alone any more. I now have a little girl of my own: her name is Maya and she is the most adorable dog-puppy around. Everybody calls me Mama-Maya…despite the fact that Maya temporarily is the one being pregnant with 4 dogs (ultrasound proofen) We will celebrate our red soiled snow free Christmas together this year in Haydom with whomever is left of the expats. I will play Christmas songs on the piano and Maya will sing along. She is really trying to keep me away from work, chewing phones ,shoes, internet- and phone cables, hiding stethoscopes, playing hide and seek in the morning when I am in a hurry. And of course getting pregnant during teenage-time must be hard for a dog as well. I will think of all of you sitting under my own little plastic decorated Christmas tree, hoping the new year will be able to fulfil some of the high expectations and hopes. But every life saved is worth every effort that had been made. Even when African watches go very slow, Changes are coming steady and eventually.
Merry Christmas!
Theresa